As a leading provider of flowers/annuals, we take pride in offering good quality plants and are dedicated to serving the needs of our customers providing them with lots of variety, good quality and great service.
Upcoming Workshops & Events
Our friendly Gardening Professionals are always here to help with any gardening needs.
We also have many services in place to help you bring beauty and nature into your environment.
One of our most popular services is Custom planting.
Customers are welcome to bring their containers to us to plant after April 1st each year.
We are pleased to offer shopping on site starting May 7th with safety protocols in place. 
We offer hand sanitizer at entry and exit, clean carts and our aisles are one way only for ease of physical distancing.  During busy times we will limit the number of people inside; please come prepared to wait for entry to the Greenhouse and dress for the weather.  We require masks to be worn inside.  Thank you for helping us keep our staff and customers safe.
We have a small selection of items available online ; all are available for pick up in-store, or curbside pick up.
We have many more options when you shop with us on-site:  baskets, planters, window boxes, annuals etc. and of course great advice.
We look forward to helping you with your gardening needs during this difficult time and in the future.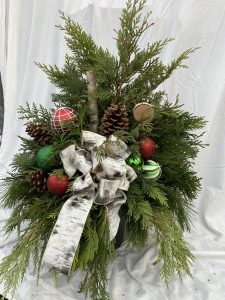 Saturday Nov 13th – Saturday Dec 11th Hours: Monday/Wednesday/Friday 10am-3pm, Saturday/Sunday 10am-4pm Call or email to pre-book your Christmas arrangements, wreaths, etc…
Read More »
Workshops 2021, call or email for details.  If enough intersted we will proceed starting November 20th, 2021.